Description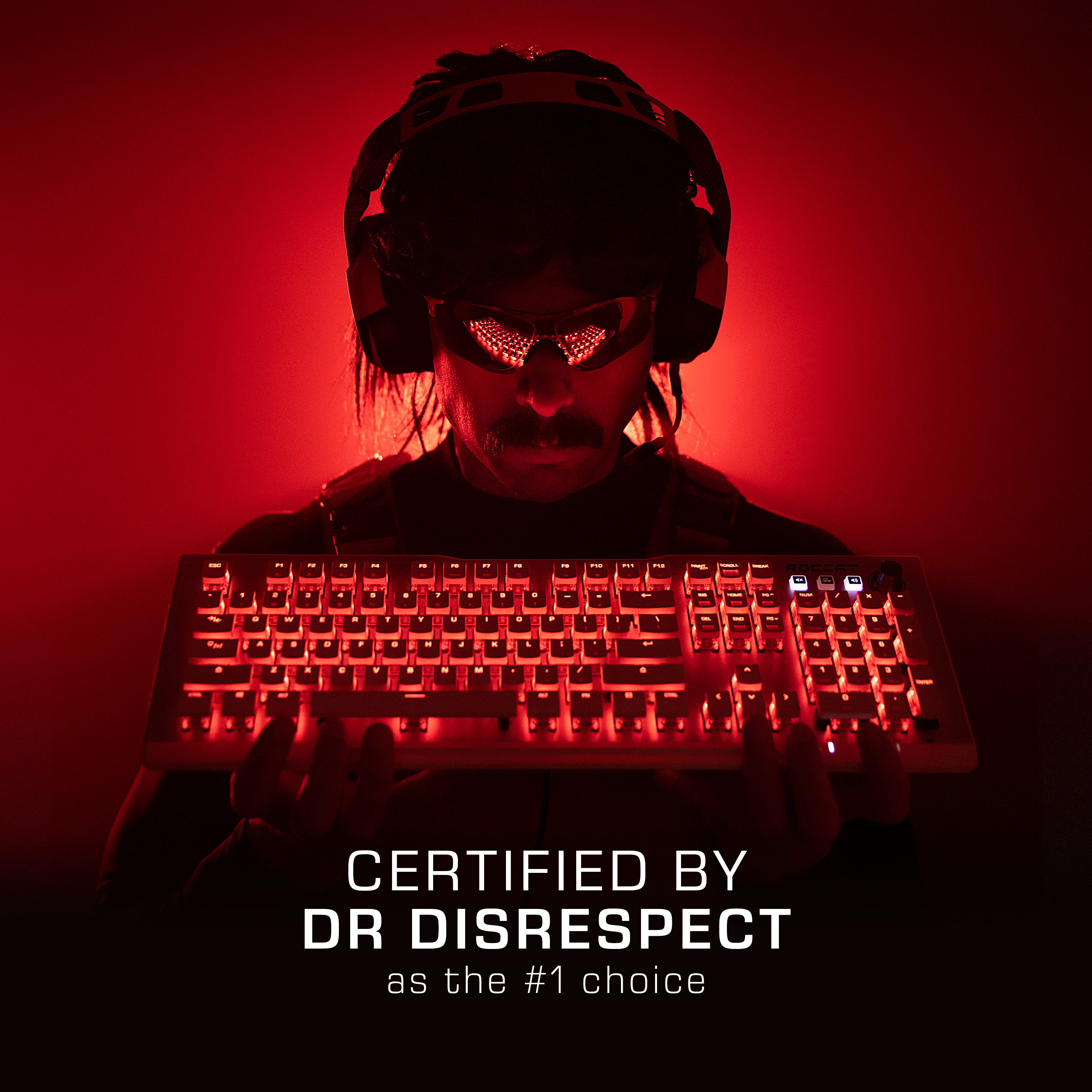 The ROCCAT® Vulcan 122 AIMO is a full-size keyboard series variant that features the tactile Titan Switch Mechanical – a marvel of German engineering that delivers the industry's best in speed and responsiveness. The switch adds to a comprehensive feature set that gamers know and love. The low-profile design is engineered for comfort and to reduce fatigue. Impressive durability and build quality thanks to its silver reinforcing anodized aluminum top plate, and switch housings designed to resist dust and dirt build-up. Dedicated mixer-style audio controls, a detachable palm rest and per-key AIMO RGB lighting round out a gaming powerhouse.
Award-Winning Design
The Vulcan took the gaming scene by storm upon its release. It received widespread critical acclaim for its functional aesthetics and an impressive build quality and comfortable low-profile design that separates it from the pack.
Titan Switch Mechanical (Tactile)
Designed and built entirely by ROCCAT engineers and developed for gamers who love the feel of mechanical switches, but demand more in terms of precision, performance, and lighting. The tactile Titan Switch Mechanical innovates on a design that had remained unchanged for years. Focusing on the elements that matter most to gamers – the feel of the crisp, tactile bump and instant responsiveness.
Long-Lasting Durability
The keyboard is reinforced by an aircraft-grade aluminum layer to make it extra strong and durable. The housing of the Titan switches is designed to resist the dust build-up that typically affects keyboards that are used often. Together with the shortened key caps, the Vulcan is easy to maintain and keep in top condition.
Mixer-Style Media Controls
The tactile volume dial and clicky backlit media buttons allow you to adjust volume & mute/unmute on the fly, or toggle over to lighting to quickly adjusting brightness. Instant Control at your fingertips.
Detachable Palm Rest
Attaching with a premium magnetic solution, the included palm rest lets you adjust your setup to whatever's comfortable for you, whether it's a relaxed typing or aggressive gaming style.Customized Your WayROCCAT's Easy-Shift[+] technology adds a secondary function to compatible keys. Just hold down the designated modifier key for double the command power in an instant. Fully customizable in Swarm.
Advanced Anti-Ghosting
Technology optimized for gamers to ensure every key stroke of the most-used keys is registered – no matter how frantic the action gets.
AIMO Illumination
ROCCAT® AIMO represents a lighting engine and an eco-system in one. It produces vibrant lighting displays in 16.8 million colors right out of the box, without the need for extensive configuration. It also syncs with other compatible AIMO products for state-of-the-art illumination scenarios that flow from device to device.
Payment & Security
Your payment information is processed securely. We do not store credit card details nor have access to your credit card information.